BARCO

Hohe Auflösung. Hohe Helligkeit. Hohe Zuverlässigkeit. Hohe Leistung.

Barco erfüllt mit diesem Konzept die ständig wachsenden Anforderungen an professionelle Imaging Solutions, wie etwa in den Bereichen öffentlicher Präsentation, professioneller Bildbearbeitung, medizinischer Anwendungen, Kontrollräumen sowie Visualisierung und Simulation bei Entwicklung und Forschung.
Als europäischer Hersteller mit klarer Ausrichtung auf professionelle Anwendungen für uns ein unverzichtbarer Partner.
Exclusiv bei Audio Visions:
Barco Residential (HC) mit dem Überprojektor Optix Cinemascope - dem weltweit einzigen Projektor der ohne anamorphe Vorsatzoptik eine formatfüllende 21:9 (2,37:1) Darstellung bei Kinofilmen ermöglicht.
Auch aktuelle 4K Projektoren haben bei der Darstellung von BluRay Inhalten (Full HD) keine Chance gegen die unvergleichliche Bildqualität.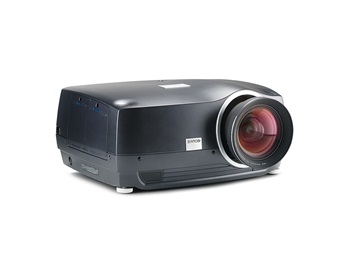 The new Barco Optix Cinemascope is a ground breaking product and demonstrates that avielo is thoroughly dedicated to the home cinema market and leading the way out in front of the competition when it comes to providing a truly cinematic experience in the home. We have heard rumors in the market about this product regarding how it works, particularly that it's not truly native 2.35:1 but that we are using several older low resolution image devices rather than a completely newly designed architecture. As the development partner with Texas Instruments, we are in a unique position to bring to market a new and better solution compared to using an anamorphic lens.
So to explain how this product works and why it's better than using an anamorphic lens, let's start by explaining how the information is stored on a Blu-Ray disc: Most widescreen movies as seen in home cinemas, on 16x9 screens, are displayed with black bars above and below the image. The aspect ratio is correct and all information is available, but is not using the full resolution or brightness of the display. The resolution of the actual film image in 2.35:1 is approximately 1920x817 pixels.
In order to get a bigger image in 2.35:1 format, you have to either scale or zoom up the image, or use a combination of both. Using an anamorphic lens such as our RealScope solution, the image scaled electronically vertically to fill the height of the screen and chip which is an uneven scaling process resulting in a tall looking image.
In order to stretch the image back to the correct shape and aspect ratio an anamorphic lens is placed in the light path to stretch the image horizontally by the same amount as it was scaled vertically. . The result is an image with larger pixels, reduced sharpness and geometric distortions such as pincushion. Despite the limitations and imperfections, RealScope is still a very good solution and the image looks spectacular compared to watching the movie with black bars above and below the image.
Using the Barco Optix Cinemascope the image is scaled diagonally, which is a uniform process and maintains perfect geometry while utilizing almost 700.000 more pixels. The result is a higher density of pixels on the screen with more detail, a much sharper image and more depth of field- in a perfectly shaped rectangle.
This process of course requires more processing or scaling than other, to ensure a perfect image on the screen, we are using four processors inside the SuperWide235: At the heart of the system are two FPGA circuits which make this superior when compared to any other product in the market. One FPGA performs all the pre setup of the image, the second one verifies and tunes the image further after the signal has been sent through a VXP9452 image scaler, this is an advanced video imaging processor that provides two fully separable video processing channels each featuring full 12-bit input and output support. The last processor, a Freescale IMX27 – 400MHz processor, runs with our custom embedded Linux code. All four processors allow us to measure, adjust, scale and present the best possible image on the screen. There is no other projector available with comparable processing power.
Last but not least, you will be surprised at how flexible and easy set up is. Unlike an anamorphic lens system which must be used in the horizontal center of the image, there are no limitations other than the maximum available horizontal and vertical lens shift to determine placement, there is also no limitation to which lens you can utilize, this means you can even get a 2.35:1 image using our wide angle 0,8:1 lens for rear projection. Full adjustment of focus and zoom is available via the remote rather than the manual adjustments you would need to make on an anamorphic lens. This together with all the other standard Barco Optix Cinemascope features including RealColor, an extensive profile system and IP control and monitoring, makes this the easiest to use and install 2.35:1 projector solution available in the market.
The Barco Optix Cinemascope delivers the most detailed and accurate image in a native 2.35:1 film ratio without the addition of light absorbing, geometry distorting lenses, while also providing a perfect 1080p (16:9) image for television based content. This is the biggest step forward in home cinema since the introduction of 1080P.